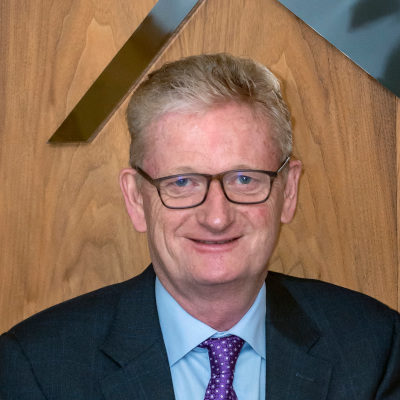 Michael Cosgrave
Director, Cosgrave Group
Michael Cosgrave is a reputable developer with vast and varied ex­perience, who is acknowledged as having created some of Dublin's best addresses.
Michael established Cosgrave's with his two brothers straight out of school in 1979 and worked on sites learning the trade hands on from the very beginning. Working side by side with both site employees and sub-contractors alike. Over the years Michael was perfectly positioned to identify he right people to add to his team, a team that has evolved under Michael's strategic direction. In ad­dition Michael has one-to-one relationships with almost every sup­plier and sub-contractor involved in the extensive Cosgraves network and has an impeccable reputation within the Irish con­struction Industry.
Michael established the "Cosgrave 5 Pillars of Excellence" as a charter to keep the extended team clear of expectations and fo­cused on delivering the Cosgrave vision and standards. The 5 Pillars are: Quality, Sustainability, Low Maintenance, User Focused Design and Community Benefit. Michael is also a regular speaker at industry conferences, usually focusing on sustainable development and public realm, two pivotal themes in Cosgrave work.
Today Michael leads a highly skilled team and specializes in trans­forming development opportunities into ambitious mixed-use de­velopments. Over four decades the scale and ambition of the projects has grown, while Michael has kept the team firmly rooted in delivering exceptional user focused developments.
The first major award came in 1989 when Chesterfield in Castleknock won The House of the Year Award sponsored by Irish Independent and Royal Life. Cosgrave's have since been the recipients of many awards, including the overall SEA Ireland in both 2013 and 2016, the only housebuilder to receive the award, there have been numerous other awards for excellence in Design, Community Benefit, Planning, Sustainability as well as a number of awards too for their advertising/marketing campaigns. The developments honored were Chesterfield, Howth Lodge, Eden Gate, Lansdowne Gate, Honeypark, Cualanor, and Bracken Park, They were also voted Developer of the Year in 2007.
They received accreditation from Sustainable Energy Ireland in 2006 for their Lansdowne Gate development of 280 apartments. The Government agency, Sustainable Energy Ireland, considers Lansdowne Gate as a milestone project demonstrating the benefits of a district heating system for residential development in Ireland. The heat recovery ventilation system incorporated throughout this development was another energy efficient innovation. Michael Cosgrave, director, was invited to make a presentation on "Energy Efficiency in Sustainable Development" to the National Housing Conference 2009 in Sligo.